Luther's death house was solemnly on 1. February 2013 reopened.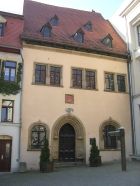 The two story building with its steep gable roof and the streched wing measures up to the building style during the lifetime of Luther. The house is situated across the street from St. Andrews Church. Martin Luther lived here from January 1546 when he came back to Eisleben, as an arbitrator in the dispute between the Counts of Mansfeld. In the room where Luther died visitors can view his deathmask, his only relic. It is the pall, his heirs received in 1888 and it is displayed in a magnificent shrine.

In another part of the house, the history of the Mansfeld Region, the city of Eisleben and the copper mining industry is exlained. An attractive collection of plates shows romantic perspectives of the region. An annex houses pre-historic archeological finds.
The link shows you more information, like opening times and prices...