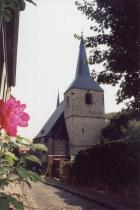 View of the church
St. Nicolai is the oldest church in Eisleben. When an older chapel in the Northeastern area of the city, devoted to St. Godehard and St. Nikolaus became too small, the community started to build the St. Nicolai Church in 1420. This part of town was colonized in the 12th Century by settlers from Frisia, Flanders and Holland. The archbishop of Magdeburg, Wichmann von Seeburg, had recruited them to Eisleben to work on draining the "Foul Lake" in part of the settlement, to reclaim the dried ground for the city.
Documents show, that the choir of St. Nicolai was founded in 1426. The church was restored in 1600, 1715 and again from 1852 to 1854., without the exterior look of the building being changed. The interior of the three-aisled hall church, was renovated in 1910 in the style of that time. Johann Agricola (Theologen and Educator 1492–1566) preached in St. Nicolai. The next decades the building was maintained and small repairs were made when needed. Major issues with the structure compounded and the church was closed in 1972. Over the next two years the endangered interior decorations were moved to other churches in Eisleben.
1988 a citizen's innitiative was founded to save the church, out of which the "Kuratorium St. Nikolai e.V." evolved.
The aim of this organization is to rebuild St. Nicolai and to maintain this fine example of Middle German gothic architecture for future generations.
The carpenter Georg Rehklau, from the sister city Memmingen, organized the first material transport to begin restaurations in October 1990. He led the efforts and spent many hours working on the roof himself.
Other supporting institutions which assist the Board of Trustees are The German Foundation for Protection of Historic Buildings and Monuments (Deutschen Stiftung Denkmalschutz), the government, the city and the Memmingen Circle of Friends of the Nicolai Church.