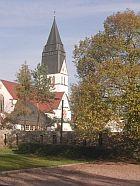 Catholic Church St. Gertrud
This neogothic hall church was built on historical soil. From 1343 until 1525 this was the place of the Cloister New Helfta (Neuenhelfta). In 1868 the area was purchased by the catholic vicarage, in 1869 the Benedictine nuns from Osnabrück came to revive the cloister tradition. In 1875 the nuns were forced to move on order of Bismark. There is a plack on the portal in memeory of the last prioress.
1907 collections were taken for the building of a new church. 3. Juni 1914 the work began but was slowed considerably thereafter, since the war had started. In September 1915 the pastor moved into the rectory and the church was dedicated in November 1916.
Many years past before the interior of the church was finished and decorated. 1928 the organ was dedicated,, in 1931 a catholic congregation from Gelsenkirchen-Rothausen presented the church with three new church bells, which were named: Gertrud, Mechthild and Bruno. A small fourth bell finished the ensemble in 1952. The bells from the church, which were used until 1931 were send to Massen, Westphalia. The original Gertrud altar was taken out and moved to the place where the holy Gertrud, one of the most significant German mystics and nun (1256 – 1302) worked and lived, in the former Cloister of Mary in Helfta, on the edge of Eisleben. A new altar was dedicated in 1994 in St. Gertrud's Church. Suspended behind the altar is a copper cross by Werner Nickel (Niemburg). 1994 the bishop Leopold Nowak of Magdeburg gave a baroque image of the holy Gertrud to the church, which he had received from the Archbishop Degenhardt of Paderborn, when the diocese was founded.