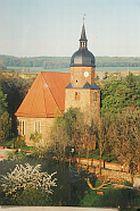 St. Georg's Church in Helfta
There are many unanswered questions about the origin of St. Georg's Church in Helfta. Unfortunately the documents which could give answers, were destroyed when the rectory burned down in 1686. Historians believe the late mediaeval church was built around 1570. It is know that it was part of the estate of Archbishop Wichmann von Magdeburg in 1184. The building has a simple exterior and a well proportioned tower next to the sanctuary.
A valuable asset of the church is the late gothic altar shrine. In the middle of the altar St. Georg is seen, resting on the Spear of Destiny, at his feet the conquered dragon. He is flanked by St. Catherine and St. Barbara.