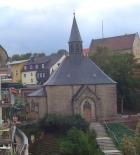 Holy Ghost Home's Chapel
The chapel in the Holy Ghost Home (Heiligen-Geist-Stift), also called Holy Ghost Church, belonged originally to the hospital of St. Spiritus. The founding of this chapel coinsides with that of the home. It is assumed that the church and the home were founded in the 13th Century by the Earl of Mansfeld. The oldest document bearing its name dates back to 1373. In 1882 the Spiritus Chapel on the Hallesche Street in Eisleben was torn down and a new chapel was dedicated in October 1885. The exterior consists of light sandstone with convex joints. Attractive are the custom, new gothic style windows. Remarkable are the two sandstone chimneys and the small sacrament house with keelarches, which hint of the late gothic time in which is was built. The valuable interior was moved and can be found in the birthhouse of Martin Luther in town. The objects are a late gothic winged altar with Mary in a shrine surrounded by twelve apostels, further a late gothic carved figure, which probably pictures the grieving Mary and finally the altar dress, a tunicle, the origin of which is contested, since the embroidered figure of the apostle Andreas connects it with the St. Andrew's Church.
1992 the chapel at the home received a new slate roof. Since it underwent a complete renovation in 1995 the St. Spiritus Chapel has become an intricate part of the senior center "Heiliger Geist Stift" which now holds non-denominational services.