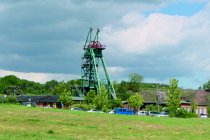 Schauberkwerk in Wettelrode
The mining museum association "Röhrigschacht Wettelrode" offers interesting insights into the history and technic of the copper shale mining indusry.

The museum gives information on the over 800 year tradition of the copper shale mining industry and also about the sites of geological and mineralogical fossil preservation. The mining display shows the specifics of this branch of mining and is unique, in that it allows the visitation of the actual mine, by way of an original hoisting system. Visitors are lowered 283 Meters below ground and continue on in a mining train through the tunnels. The visitor get a first hand opportunity to see the techniques used by the miners and the difficult conditions under which they worked. The gigantic air conditioners and pumps, without which mining would have been nearly impossible are also on display.


Contact:
Bergbaumuseum Röhrigschacht
06528 Wettelrode
Telephone: 03464-587816
Fax 03464-582768